Augmented Reality for HSR - by Geometa Lab (short AR4HSR)
'AR for/from HSR' (AR4HSR) is a free webservice where power users can publish their POIs (or even realistic 3D objects) by simply dropping their files into Dropbox.
Shortlink: >> AR4HSR homepage <<<
Contributors:
The vision is that the like environmental planners or landscape architects and even a broad public can see virtual 2D objects like landmarks and 3D objects or batter boards and building facades by using a Augmented Reality browser, like Layar, Wikitude or Junaio.
Publishers, like 'power users' being environmental planners or landscape architects (or others), prepare 2D and 3D objects, then upload and share them with users (see below).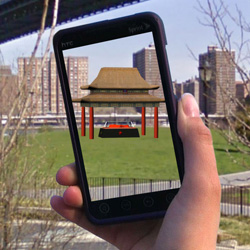 Image: Virtual 3D example found on "(Un)seen Sculptures" (www.unseensculptures.com).
Persona:
Publisher
User (visitor, civil person)
A. Publishing Markers/2D objects (like info-walls outside which illustrate a landmark):
Publisher uploads CSV (containing: name, easting/northing, opt. height, description, weblink) or KML (as CDATA ev. containing other weblinks) to Dropbox.
Publisher waits until an .ok file appears in Dropbox.
B. Publishing 3D objects:
Publisher uploads Sketchup file .skp
Publisher waits until an .sld file appears in Dropbox.
C. Looking at 2D or 3D objects:
User starts an Augmented Reality App (like Layar Browser).
User chooses Layer (Channel) 'AR4HSR'.
If user points in a direction with the camera he will see the objects (if he's receiving a GPS signal).
Optionally the object pops up when coming close to it (Geofence), say 40m.
'Augmented Reality for HSR by Geometa Lab (short AR4HSR) is a website, webservice and a smartphone app for sharing and viewing 3D objects and OpenStreetMap Point-of-Interests (POIs). Read more about Augmented Reality here.
This project consists of following parts:
Website: Show status, get instructions how to (hosted here) share 3D objects (via Dropbox API)
Webservice: Serving data to Layar (already working for POIs).
3D Browser AP for Smartphones: Layar (look for layer name "OSM HSR" and in near future "AR for HSR" by Geometa Lab). >> Download Layar << (Android, iPhone).
Project Wiki: For project coordination (this one).
Example 3D Objects:
Proposed / untested
Tested:
- Bauvisiere (Quelle: Keller+Steiner AG, wwww.baugespanne.ch).
Deliveries: